Monthly Archives:
May 2015
We've had solid good experience with Google Apps.
We've been using Google Apps for BROEKMAN communications since they launched, and it's really helped
our team work faster and more efficiently. We think you'll also benefit from trying it out for your business.
* Fast email. Searchable. Archivable. Uses Gmail interface but is customizable.
* Fast on all devices (iphones, ipads, etc.) if you set-up email as IMAP not POP mail!
* Integrates with all their products
Google Apps is a cloud-based productivity suite that includes Gmail for professional email,
Drive for online storage, Hangouts for video meetings, Calendar for scheduling and Docs
for editing files. We get things done using any device we choose.
If you're interested, check out this link:
https://www.google.com/work/apps/business/landing/partners/referral/trial.html?utm_source=sign-up&utm_medium=referral&utm_campaign=apps-referral-program&utm_content=XHQARJB.
I can also send you a coupon that saves you $10 per user for the first year, so just let me know and I'll provide details.
With Google Apps, I focus less on IT and more on what I love to do. I hope you can benefit as well.
Feel free to get in touch with any questions.
What is Google Apps?
Google Apps is a cloud-based productivity suite that helps teams communicate, collaborate and get things done from anywhere and on any device. It's simple to set up, use and manage, so your business can focus on what really matters.
Millions of organizations around the world count on Google Apps for professional email, file storage, video meetings, online calendars, document editing and more.
Watch a video or find out more here.
Here are some highlights:
Business email for your domain
Looking professional matters, and that means communicating as you@yourcompany.com. Gmail's simple, powerful features help you build your brand while getting more done.
Access from any location or device
Check email, share files, edit documents, hold video meetings and more whether you're at work, at home or in transit. You can pick up where you left off from a computer, tablet or phone.
Enterprise-level management tools
Robust admin settings give you total command over users, devices, security and more. Your data always belongs to you, and it goes with you if you switch solutions.
Read More »
Have a client in need of publishing a book? Choosing the self-publishing route? Or are you more in need of printing a hardcover high-end quality yearbook like catalog book? Either way, we can help.
Let us help you design and manage the layout of your deliverable. We've handled dozens of the following types of jobs:
Client Portfolio
Real Estate portfolio
Annual Report
Project Report
Investor Relations Presentation
Listing Presentation
Corporate Presentation
Powerpoint
Lifestyle/Concierge presentation
Timeshare presentation
Donor Relations presentation
Building Fund presentation
Angel Investor Presentation for Start-up
Start-up Presentation
Internship project
Film funding presentation
Franchise presentation
City Planning presentation
Entitlement presentation
City Council Town Hall presentation
Elected Candidate presentation
End of Year Report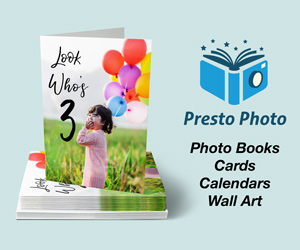 Read More »
Welcome to WordPress 4.2.1
Thank you for updating! WordPress 4.2.1 helps you communicate and share, globally.
Version 4.2.1
Security Release
Version 4.2.1 addressed a security issue. For more information, see the release notes.
---
An easier way to share content
Clip it, edit it, publish it. Get familiar with the new and improved Press This. From the Tools menu, add Press This to your browser bookmark bar or your mobile device home screen. Once installed you can share your content with lightning speed. Sharing your favorite videos, images, and content has never been this fast or this easy.
Drag the bookmarklet below to your bookmarks bar. Then, when you're on a page you want to share, simply "press" it.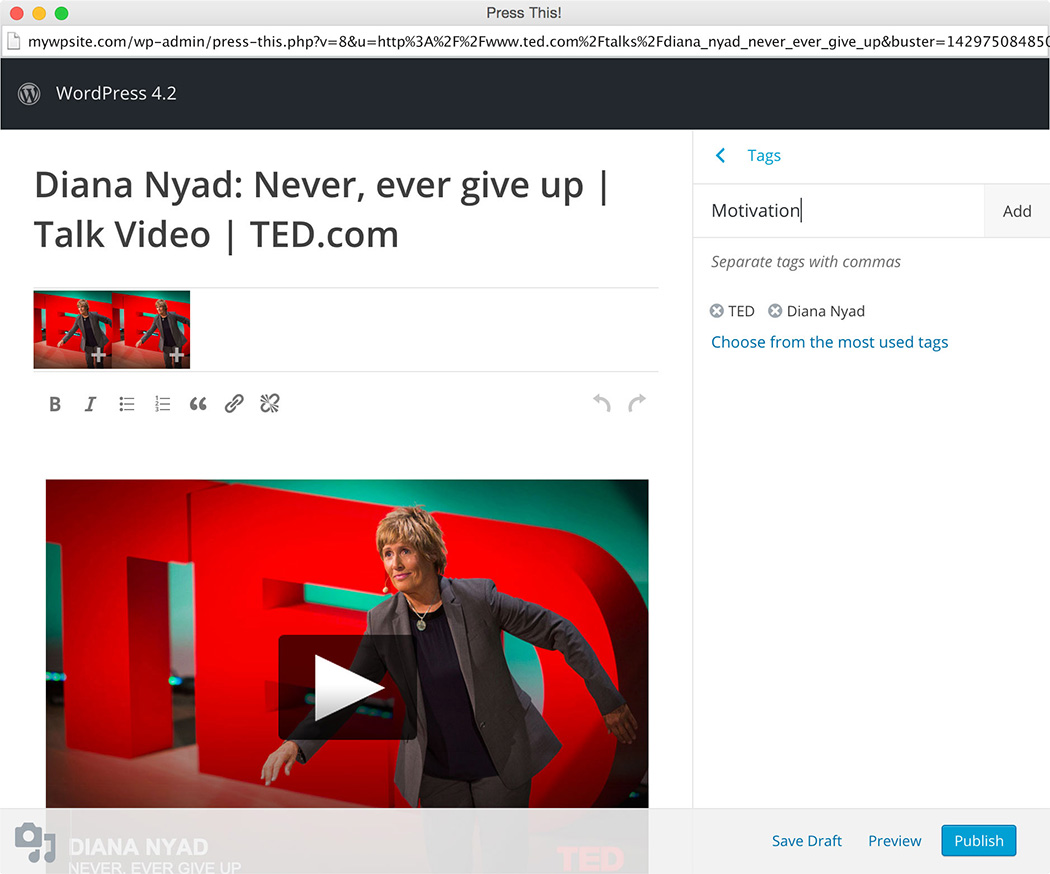 Extended character support
Writing in WordPress, whatever your language, just got better. WordPress 4.2 supports a host of new characters out-of-the-box, including native Chinese, Japanese, and Korean characters, musical and mathematical symbols, and hieroglyphs.
Don't use any of those characters? You can still have fun — emoji are now available in WordPress! Get creative and decorate your content with
,
,
,
, and all the many other emoji.
Switch themes in the Customizer
Browse and preview your installed themes from the Customizer. Make sure the theme looks great with your content, before it debuts on your site.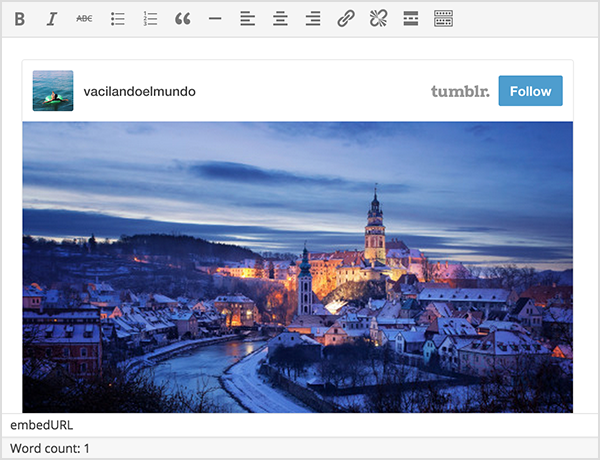 Even more embeds
Paste links from Tumblr.com and Kickstarter and watch them magically appear right in the editor. With every release, your publishing and editing experience get closer together.
Streamlined plugin updates
Goodbye boring loading screen, hello smooth and simple plugin updates. Click Update Nowand watch the magic happen.
Under the Hood
utf8mb4 support
Database character encoding has changed from utf8 to utf8mb4, which adds support for a whole range of new 4-byte characters.
JavaScript accessibility
You can now send audible notifications to screen readers in JavaScript withwp.a11y.speak(). Pass it a string, and an update will be sent to a dedicated ARIA live notifications area.
Shared term splitting
Terms shared across multiple taxonomies will be split when one of them is updated. Find out more in the Plugin Developer Handbook.
Complex query ordering
WP_Query, WP_Comment_Query, and WP_User_Query now support complex ordering with named meta query clauses.
Read More »