First, big shout out to WPbeginner.com for always having fantastic answers to core WordPress issues. This one is coming up more and more for my clients. Thought it helpful to continue aggregating common issues/resolutions here in the411. Nothing worse than looking for answers and reinventing the wheel! 🙂
Why is my WordPress site not Updating?
Before we explain the solution, it's important to understand what causes the problem first.
There are two common causes for this issue. The first one is your browser cache. Sometimes your browser (specially Google Chrome) will show you a cached copy of your website instead of showing the new one. To resolve this issue, you need to simply hit CTRL + F5 (or Command + R on a Mac) buttons on your keyboard to reload the page.
The second and most likely cause of this issue is a missing!!! or poorly configured WordPress caching plugin. To see if a caching plugin is causing this problem, you need to see if you're using a caching plugin on your site.
Often beginners use setup W3 Total Cache and WP Super Cache.
The first thing you can do is try to Empty All Caches using your cache plugin settings area.
You can do this easily by going to plugin settings page (in our demo, we're showing W3 Total Cache). Then click Empty All Caches.

This should work for most folks and now the changes should be visible on the homepage.
Next, you should look in your plugin settings to see if you can control what is cached by the Page Cache functionality. In W3 Total Cache menu under Page Cache, there is an option to unselect caching of front page.

If you unselect that, then the front page will not be cached.
Now if none of the above solutions worked for you, then you should deactivate any cache plugin installed on your WordPress site.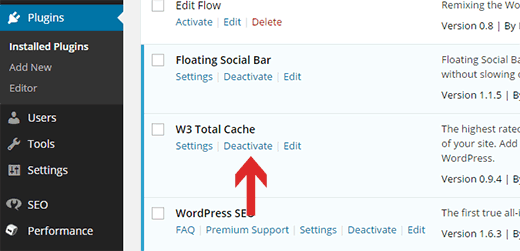 After deactivating the caching plugin, you need to visit your website to see if this resolved the issue. If it does, then this means you need to setup your cache plugin correctly.
WPbeginner resources:
Simple step by step tutorials to setup W3 Total Cache and WP Super Cache plugins on your WordPress site. They are both great plugins, but we like to use W3 Total Cache with MaxCDN on WPBeginner.
We hope this article helped you fix WordPress website not updating right away issue. You may also want to take a look at some of the most common WordPress errors and how to fix them.
If you liked this article, then please subscribe to their YouTube Channel for WordPress video tutorials. You can also find THEM on Twitter and Google+.