At Broekman, we've already helped dozens of clients meet the deadline of prepping their Google Analytics GA3 Universal Analytics accounts for data migration to Google Analytics GA4.
Sounds like a bunch of nonsense to most people, but come July 1, 2023, all website visitor traffic will stop on Universal Analytics (like Y2K stop) and all data will start flowing thru your GA4 account. Don't have one, see the instructions below to quickly and easily set one up. You may have done that in the past and now just need to follow some steps to avoid disruption to your Google Ad campaigns and to properly tracking events (booking a room, buying a product, hiring your service, etc. – really anything like a purchase, lead or contact form that you want to track in GA4 WILL NOT HAPPEN AUTOMATICALLY). Need help?
Don't ignore those emails come from Google Analytics telling you have X Days X Hours and X minutes to migrate. They offer a free appointment as well.
Start there. If you get lost, we're here to help.

[UA→GA4] Migration guide for beginners
Follow the steps in this guide to migrate to GA4. You'll create a new GA4 property and migrate your goals to GA4.
If you have already completed migrating and are confused about why you are still seeing migration notices, follow 
these steps
.
Follow these steps in a desktop browser, not the Analytics mobile app. It's easiest if you complete migration in one session.
If you prefer video format to learn, watch the migration basics video:
Find your Analytics account and check which properties you need to migrate
If you aren't sure whether you have a Universal Analytics property that you need to migrate or which properties you need to migrate, follow these steps.
OR, If you are ready to migrate, skip to the next section, Run the GA4 Setup Assistant wizard.
Create a GA4 property
To use the GA4 Setup Assistant, you need the Editor or Administrator role for the account. You can use the tool regardless of whether your website pages have a Google Analytics tag (gtag.js or analytics.js), a Google Ads tag (gtag.js), or a Google Tag Manager container.
In Google Analytics, click  Admin (lower left).
In the Account column, make sure that your desired account is selected. (If you only have one Google Analytics account, it's already selected.)
In the Property column, select the UA property that currently collects data for your website.

In the Property column, click GA4 Setup Assistant. It's the first option in the Property column. If you don't see the option, you likely don't have permission to access the tool.
Click Get started under I want to create a new Google Analytics 4 property.
In the Create a new Google Analytics 4 property screen, you'll have one of the following options, depending on how your site is currently tagged:
(If you chose Create and continue in step 6) On the Set up a Google tag page, install the Google tag manually (the first option below) or select the option that best describes your situation and follow the instructions to finish creating your new GA4 property.You will see some of the following options, depending on how the site is configured.

Install with a CMS or website builder

Use a Google tag you already have

Use the Google tag found on your website

Use a different Google tag
Finish setting up your new GA4 property
When you're done, you'll see "You have successfully connected your properties" at the top of your Google Analytics 4 Property Setup Assistant page.
Make a note of your GA4 property's name so you can find it later. If your Universal Analytics property name is "Example property", your GA4 property name will be "Example property – GA4".
Click See your GA4 property to open Setup Assistant in your new GA4 property. Setup Assistant in Google Analytics 4 properties guides you through recommended features and settings to help you finish setting up your GA4 property.
It can take up to 30 minutes for data to begin appearing in your new GA4 property.
To verify that data is being collected, browse your website, then select Realtime from the report navigation. You should see activity in the Realtime report
If you have an existing Firebase project, you can link this GA4 property to it. However, you have to do this from Firebase. Learn how.
Congratulations! You've now completed the most important part of the migration to GA4. There are two additional steps we recommend for advertisers, however they are not necessary for everyone.
Turn on Google signals: This is very quick and easy. Follow the steps below.
Migrate your Universal Analytics goals to GA4: This is more complicated, but isn't necessary unless you want to reuse the goals that you had in Universal Analytics as conversion events in GA4. This may be important to you, particularly if you bid on your UA goals in Google Ads. Follow the steps below. (If you don't understand what Universal Analytics goals are, you can consider your GA4 migration complete.)
How to remove GA4 migration notices
If you have completed your GA4 migration, but you see one or both the following notices, follow the instructions below to stop seeing them.
"This property's setup is not complete. Settings may be completed for you based on your original Universal Analytics (UA) property, unless you opt out in the connected UA property."
"Some settings from your original Universal Analytics (UA) property may be automatically added to this Google Analytics 4 property. To opt out from adding these settings automatically, go to the Setup Assistant in the connected UA property.
Click Admin.
In the Property column, click Setup Assistant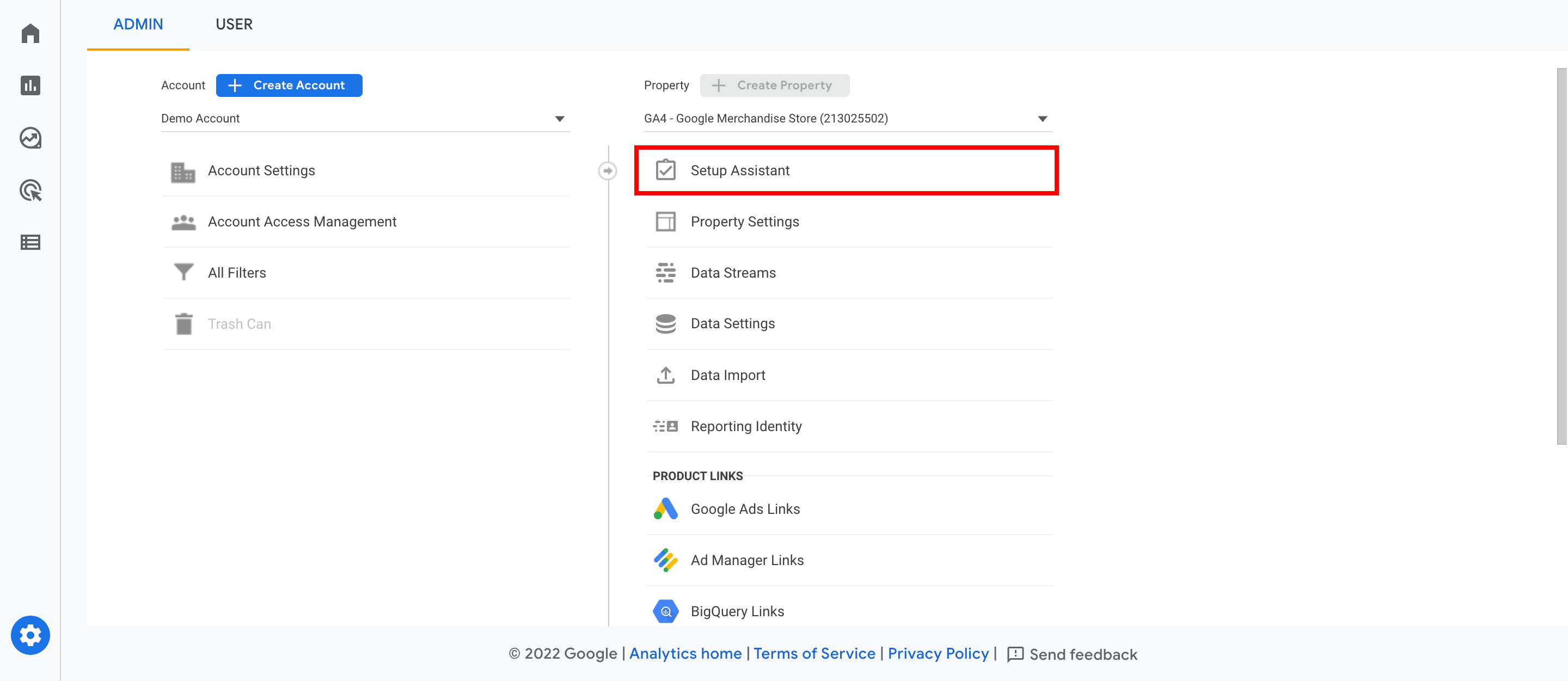 If you see the message: "This is your GA4 property. Your connected Universal Analytics property remains unchanged", click Open connected property.
A countdown timer appears with the message "Almost there – finish migrating to Google Analytics 4 (GA4)". Click No thanks.
Switch off the "Automatically set up a basic Google Analytics 4 property" toggle.

Click Go to your GA4 property to go back to your GA4 property.
Mark all the tasks completed to stop seeing "This property is not fully set up. You can complete the recommended setup checklist in the Setup Assistant."

For each task, click the arrow at far right.

Select Mark as complete.
The next time you access this GA4 property, the notices will no longer appear. (The notices will not immediately disappear once you complete these steps.)
Since your GA4 migration is now complete, you can ignore the rest of this article.
Turn on Google Signals
By turning on 
Google signals
, you can collect additional data about users who have turned on ads personalization and who have signed in to their Google Accounts.
In Setup Assistant, look for "Turn on Google signals" and click the Actions menu  to the right of the row.
Click Manage Google signals.
On the Google signals data collection page, click Get started.
On the Activate Google signals page, click Continue.
Click Activate.
Migrate your goals
Return to the Setup Assistant page. (Click GA4 Setup Assistant, to the left of your screen.)
Look for "Set up conversions" and click the Actions menu  to the right of the row.

Click Import from Universal Analytics.
Select which goals you'd like to recreate as conversion events in your new Google Analytics 4 property. (You'll see a checkmark next to all of your goals, by default. Unselect any goals that you don't want to recreate in your GA4 property.)
Click Import selected conversions in the top right.
A confirmation message will show in the bottom left of your screen when your selected goals have been successfully recreated as conversion events in your Google Analytics 4 property.
And now for some additional next steps.
STEP ONE
Forwards here:
Choose Extensions > GA4 Migrator for GA > Migrate audience definitions to GA4
Choose the GA Account and then the Universal Analytics Property and wait for the
blue "import audiences from universal analytics" to appear ….
THEN. you proceed to STEP TWO
Hit Validate Manual Changes
After you click that, it will say VALIDATION COMPLETE and you hit okay.
THEN you have to hit SELECT all migratable audiences and hit continue
It basically places a check box next to the list. 🙂
It may take a few times of toggling the next step, but eventually if you do it 2-3 times,
The blue MIGRATE button will appear.
3rd time was a charm!
AND then you get the pop up.
AFTER this you can navigate back to the Google analytics Set-up assistance and truly mark AUDIENCES as complete.
I will do so on Sands right now.
You know the migration works because when you go back to MANAGE AUDIENCES
there are REAL numbers there….:) Remember it said < 10 users before?!